Discover the world of cosmetic dentistry
There are many reasons to visit a cosmetic dentist. The world of cosmetic dentistry is diverse, full of many new materials and techniques guaranteed to enhance your smile. Cosmetic dentists keep current with all the new, innovative dental treatments, including dental technology. When you visit a cosmetic dentist, you can be assured you will be offered state-of-the-art treatment to change your look and your smile.
Consider cosmetic dentistry at Dr. Stephen St. Louis if you have teeth that are:
Heavily stained from smoking, coffee or medication use
Broken or damaged from trauma or injury
Crooked or poorly aligned from genetics
Badly shaped or uneven from age-related wear
Gapped or spaced apart from genetics
Cracked or chipped from overuse
Your cosmetic dentist can correct the look of your teeth and smile by providing treatments including:
Dental whitening treatments- designed to whiten teeth up to 8 shades with a convenient take-home treatment, or a speedy office treatment that takes about an hour. We offer ZOOM! and BriteSmile whitening treatments at Dr. Stephen St. Louis in Fairfax,VA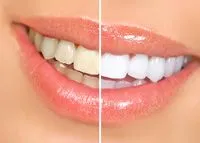 Dental veneers- usually made of porcelain and placed over front teeth; veneers are thin laminates used to correct uneven, unsightly front teeth and mask defects to create a perfect smile
Dental bonding- using a tooth-colored resin material called composite; bonding can close small gaps between teeth, change the color and the shape of teeth
Contouring and reshaping- to cosmetically straighten or improve teeth that are chipped, cracked, overlapping or badly aligned; contouring and reshaping is often performed along with dental bonding
Cosmetic fillings- using composite, these fillings can be matched perfectly to your existing tooth color, making them virtually invisible; they can be used to replace unsightly, bulky metal fillings
These are just some of the procedures available in cosmetic dentistry. You owe it to yourself to visit a cosmetic dentist and explore what can be done to improve your smile. After a full dental examination and x-rays, your cosmetic dentist can discuss your overall dental health and create a treatment plan to get you on your way to a great smile.
Achieve your perfect smile today at Dr. Stephen St. Louis in Fairfax, VA! Make an appointment by calling (703) 385-7177.